Heartland Energy Group, Ltd. is pleased to offer an environmentally friendly and direct replacement for d'Limonene. Heartland's BioSyn is a multi-use solvent that effectively addresses today's regulatory, safety and environmental issues facing solvent users today.
Read more details about our d'limonene supplement below, or call (877) 797-2811 to learn more.
BioSyn is a highly purified solvent that is derived from renewable and sustainable sources, making it a green d'limonene supplement. BioSyn is derived from palm oil and subsequently converted into palm methyl ester solvent.
BioSyn is non-DOT regulated, non-fuming, biodegradable, non-toxic and OSHA and EPA compliant. BioSyn is manufactured with ingredients set forth by the Cleangredients as Environmentally Safer Ingredients, so when you need a d'limonene supplement, you can trust BioSyn as a green alternative.
A D'limonene Supplement With Many Applications
In addition to BioSyn's use in the oilfield, BioSyn can also be used as a key "green" replacement ingredient in the production of cleaners, degreasers, asphalt release agents, form release agents, blanket and roller cleanup formulas, ink removal, general adhesive removers, metal cutting compounds, animal fat degreasing, rust prevention and coating along with metal cutting. Our d'limonene supplement has countless industrial applications.
View TDS & SDS Supporting Documentation
*You must sign-in or register for a free account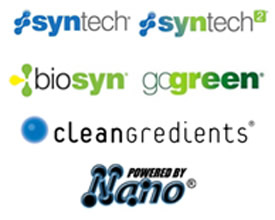 Features and Benefits
A safer alternative to d'Limonene
Aggressive Kauri-Butanol values
Virtually NO VOC's and no citrus odor
Flashpoint is greater than 300ºF
Listed on the Cleangredients database
A multi-purpose solvent that dissolves paraffins and asphaltenes
A great alternative to Xylene in acid treatment programs
Derived from an environmentally sustainable and renewable process
Extremely low evaporative emissions
To place an order or learn more about out this one-of-a-kind d'limonene supplement, contact our headquarters today by calling (877) 797-2811 or sending an email.
Proudly serving oil and gas industry throughout the world.