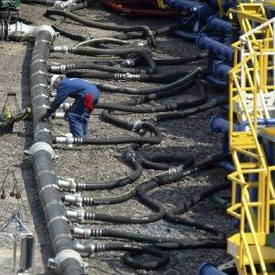 Oil Safe AR® is a safe yet functional hydrochloric acid replacement, as well as a replacement for other commonly used oilfield acid treatments. It is non-regulated by US DOT and carries a triple zero hazardous materials information system score.
Learn more about our hydrochloric acid replacement, Oil Safe AR®, below, or call (877) 797-2811
 today.
Like our other hydrochloric acid replacement products, Oil Safe AR® is manufactured with products chosen from the EPA's Design for the Environment "Safe Chemical Ingredients List" that meet the criteria for Design for the Environment Safer Product Program. According to the EPA, all chemicals in their listing are among the safest for their functional use and are categorized in 4 separate categories: Green Circle, Green Half Circle, Yellow Triangle and Green Square.
Chemical ingredients bearing the full green circle have been verified by the EPA to be of the lowest concern based on experimental and modeled data.  Heartland Energy Group, Ltd., in a green foot forward stewardship initiative, consciously chooses to only include those ingredients with full green circles in every hydrochloric acid replacement product we manufacture.  Our standard Oil Safe AR® formula includes iron control agents, a surfactant and de-mulsifier system, and requires no organic acid additions or corrosion inhibitors under most conditions.
Oil Safe AR® Products
We are proud to carry the following hydrochloric acid replacement products in the Oil Safe AR® line:
Oil Safe AR®
Oil Safe AR® 1050
Oil Safe AR® 1030
View TDS & SDS Supporting Documentation
*You must sign-in or register for a free account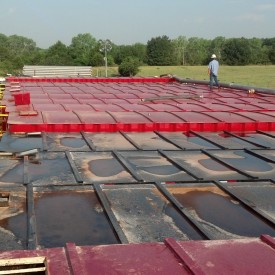 Features and Benefits of Oil Safe AR® Hydrochloric Acid Replacement:
Our hydrochloric acid replacement is an excellent choice for fracs, spearhead treatments, injection wells and disposal wells and annular soaks
Oil Safe AR® requires no organic acid additions to help retard reaction rates
Standard formula includes surfactant and de-mulsifier system
EPA compliant standard for 10 day direct release bio-degradation. Oil Safe AR® is biodegradable  in 10 days or less; approved for direct discharge; made with Cleangredients and ingredients recognized by the the EPA's Design for the Environment safer ingredients.
Requires no iron control agent addition for most applications
Safe on most metals, piping and pumping equipment
Our hydrochloric acid replacement is non toxic; non fuming; non mutagenic; no VOC's
No secondary containment required as per Chapter 62-761F.A.C.
Eliminates foulants
An excellent choice for work-over projects, bullhead treatments and cement remediation
Requires no additional corrosion inhibitor step for most applications
100% biodegradable, acid free and naturally inhibited
For more information about Oil Safe AR® hydrochloric acid replacement, call (877) 797-2811 or send an email.
Proudly providing the oil and gas industry with environmentally sound products.